---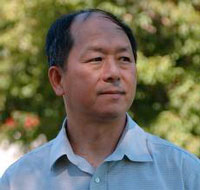 Dr. Yang, Jwing-Ming is an acclaimed author and teacher of Kung Fu, Tai Chi Chuan, and is a leading authority on Qigong (Chi Kung).
Dr. Yang was born on August 11th, 1946, in Xinzhu Xian, Taiwan, Republic of China. He started his Kung Fu training at the age of fifteen under Master Cheng, Gin-Gsao. After thirteen years of study (1961-1974), Dr. Yang became an expert in the White Crane Style of Chinese martial arts. At the age of sixteen, Dr. Yang began the study of Yang Style Taijiquan under Master Kao Tao

At age eighteen Dr. Yang entered Tamkang University in Taipei to study physics. Dr. Yang came to the United States in 1974 to study Mechanical Engineering at Purdue University, where he earned his Ph.D.
Yang's Martial Arts Association was established in Boston, Massachusetts in 1982. With the intent of preserving traditional Chinese Kung Fu and Qigong, Dr. Yang, Jwing-Ming began training students in the rigors of Shaolin Long Fist and White Crane Gongfu as well as Yang Style Tai Chi Chuan. Dr. Yang also undertook his life-long dream of teaching and researching the Chinese arts and introducing them to the West through many books, videos and DVDs. In 2005, he opened YMAA Retreat Center in Northern California teaching five and ten year programs to ensure that the authentic lineage of traditional Chinese arts will continue for generations.
For more information about his life and work see: Dr. Yang, Jwing-Ming. YMAA.

Video: Dr. Yang, Jwing-Ming Biography (YMAA) Yang's Martial Arts Association. YouTube.com

YMAA (Yang's Martial Arts Association) - more information at http://ymaa.com

and https://ymaa.com/publishing