---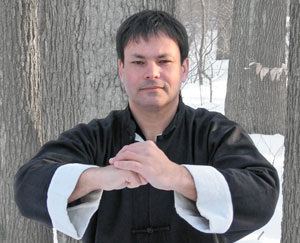 With over thirty years experience in Qigong, Tai Chi & Wing Chun Kung Fu, Adam Wallace teaches traditional Wild Goose Qigong,

Chen Style Taijiquan (Tai Chi),

Wing Chun Kungfu,

and Chun Yuen Quan.

in the East Bay Area of San Francisco.

Adam was born in London, UK, in 1966. Went to school in Weybridge, Surrey, and obtained his Black Belt in 1988 (Shodan rank) from the British Karate Association under Sensei John Hayes (retired). He began studies with Sifu (Master) Michael Tse

in 1988 which included Hard Qigong.

Adam Wallace is a certified senior instructor of the Tse Qigong Centre. He moved to New York City in 1992, and taught in the New York and New Jersey area for 18 years. He relocated to California in 2013.
Adam has also studied with his Grand-teachers Chen Xiaowang, 19th generation lineage holder, Chen Family Taijiquan and Ip Chun, (eldest son of legendary Ip Man), teacher of Wing Chun Kungfu.
He is a prolific writer on the subjects of Qigong, Taijiquan and Kungfu, as well as on Chinese culture. He began writing articles for Qi Magazine in 1997 and a had regular column beginning in 1999 which ran until 2009 when the magazine was discontinued. Over forty pieces of his were published there. (All ninety issues of this important magazine are available at no cost at Qi Magazine.)

Sixteen additional articles of his are on his Blog at http://sifuwallace.com

He has also been published in Qi: The Journal of Traditional Eastern Health and Fitness (also known as Qi Journal), Journal of Asian Martial Arts, The Empty Vessel: A Journal of Contemporary Taoism, Kungfu/ Tai Chi, Inside Kungfu, and Black Belt.
YouTube Videos
Adam Wallace Chinese Health & Martial Arts: Lineage and Tradition. YouTube.


Wild Goose Qigong ... YouTube.


Chen Style Taijiquan ... YouTube.

Internet Presence
Web Page: Adam Wallace Chinese Health and Martial Arts.


Facebook.


LinkedIn.


Twitter.

Contact Information:
email wallace@sifuwallace.com
PO Box 5412, Concord, CA 94524
(925) 285-3698