---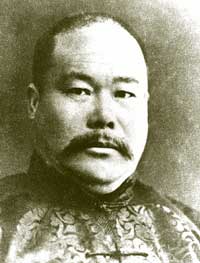 Yang Chengfu (1883-1936) modified and opened to the Chinese public the formerly held secret Yang Family Style Taijiquan (tai chi). His descendants, as well as his students and their students have made Yang Style Taijiquan the most popular and practiced taijiquan in the world today.
Yang Chengfu (also named Yang Zhao Qing) was the grandson of the founder of Yang Family Taijiquan, Yang Lu Chan (1799-1872), and the son of 2nd generation Yang Tai Chi master, Yang Chien Hou (1839-1917). His father taught him some of the basics of Yang combat training, but as a young man he cared more about drinking and womanizing. After his father's death in 1917 he became more interested in the martial arts and began serious studies with his older brother Shao Hou and other members of the Yang family.
He publically taught taijiquan at the Beijing Physical Culture Research Institute from 1914 until 1928. He moved to Shanghai in 1928 and continued his teaching.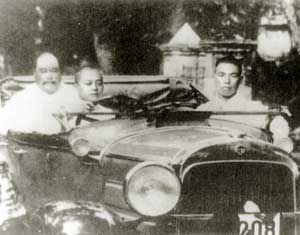 Personality: He was described as being openhearted, friendly, and modest. He was very popular as a teacher, and avoided hurting his students and challengers. He was a large man – weighing over 230 pounds. One story has it that, During his stay in Wuhan, he reluctantly accepted a challenge from a belligerent local kung fu master versed in swordsmanship. Wielding a mere makeshift sword of bamboo; Yang easily defeated his well-armed opponent and then apologized profusely for having unintentionally hurt the opponent's wrist during the fight. http://goldeneaglemac.com

Chengfu style: Yang Chengfu developed a system of taijiquan that differed from that of this father, uncles and grandfather. He reduced or eliminated many of the difficult high kicks, leaps and stomps, replacing them with wider more comfortable stances with smoother flowing, light, agile, rooted movements; thereby making taijiquan more accessible to the general public. Nevertheless his style was strict and demanding—some say he even created a more effective martial art. He called his style Yang Big [or Large] Frame (Yang Da Jia).
Pictures and text of him performing his taijiquan are found in the book The Essence and Applications of Taijiquan, translated by Louis Swaim.
Yang Chengfu Taijiquan 108 movements. pictures. www.youtube.com

Comments: There is no one standardized Yang Chengfu style. He even over time made changes and adjustments to what he practiced and taught. For example, as he grew older he made the forms easier to practice and more emphasized their health benefits. Today it may seem that there are nearly as many versions of Yang Style Taijiquan as there are instructors. However, although the many versions differ as to exact executions of the movements, what has remained is that the movements themselves are generally recognizable as being part of his Yang Style Taijiquan.
There is no extant film of Yang Chengfu doing his forms. But there are videos of several of his closest students who are said to have remained faithful to his teachings. Fu Zhongwen and Yang Zhenduo do the form the closest to what I was originally taught, which is also closest to the way Yang Cheng-Fu's son and his senior disciple Tung Ying-Jie showed me how Yang Cheng-Fu did the set.  http://www.yangfamilytaichi.com

This video therefore may be the closest thing to actually seeing Yang Chengfu performing his style of taijiquan: Yang Zhenduo and Fu Zhongwen Taijiquan (Tai Chi).

Information Sources:
The Hand Forms Yang Cheng-fu Taught. http://www.yangchengfu.org

Matthias Wagner. 104 pictures showing Yang Chengfu performing the taijiquan form. Wikimedia.org

Yang Cheng-Fu. http://www.egreenway.com

Yang Chengfu. https://en.wikipedia.org

Yang Chengfu. The Essence and Applications of Taijiquan,

translated by Louis Swaim. Blue Snake Books, 2005.
Yang Cheng-Fu Tai Chi Chuan. http://www.yangchengfu.org

Dr. Yang, Jwing-Ming. History of Yang Style Taijiquan (Tai Chi Chuan).

Yang Style History. http://donalo.tripod.com

Yang-style t'ai chi ch'uan. Wikipedia.com