---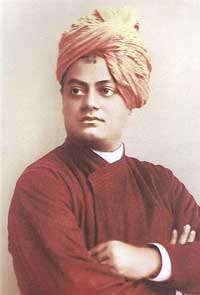 Swami Vivekananda, born Narendra Nath (1863–1902). An Indian Hindu monk and the chief disciple of Sri Ramakrishna.

He was a key figure in the introduction of the Indian philosophies of Vedanta and Yoga to the Western world, and was a major force in the late 19th century revival of Hinduism in India.
Further information at:
http://en.wikipedia.org/wiki/Swami_Vivekananda

http://en.wikipedia.org/wiki/Vedanta_Society

http://en.wikisource.org/wiki/The_Complete_Works_of_Swami_Vivekananda.